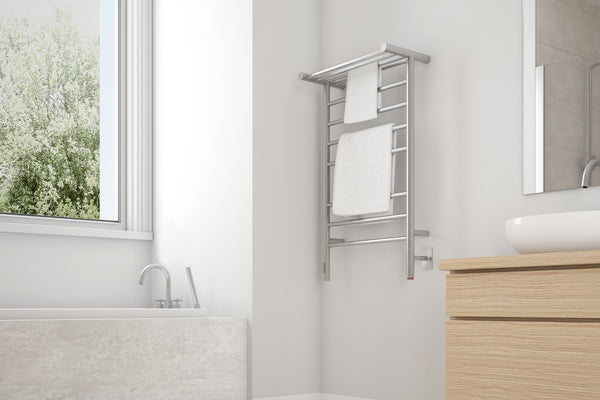 Wall-Mounted, Freestanding & 3-in-1 Towel Warmers
Wall Mounted, Freestanding & 3-in-1 Towel Warmers
The delight of wrapping yourself in a warm plush towel as you step out of the shower or bath is no longer reserved for spa getaways. Towel warmers are gaining popularity and have moved from a luxury item found in hotels and spas to an essential part of every bathroom - and with good reason. Beyond just warming towels, they also reduce humidity and prevent mildew as well as diminish the time you'll spend doing laundry. When deciding what towel warmer to get, you'll need to ask yourself how you want to mount it. Towel warmers come in all shapes and sizes and choosing the right mounting type is an essential step when shopping for one. There are three ways to set up your towel warmer and we're here to help you find the best model for your needs.  
HARDWIRED WALL-MOUNTED TOWEL WARMERS

These are ideal for areas with limited floor space as an alternative to traditional towel racks. Hardwiring your towel warmer to the wall will leave you with a clean, minimalist looking result without any visible wires. Our Ancona Home wall-mounted towel warmers come with everything you need to connect your new towel warmer directly into the junction box in the wall. 
PLUG-IN WALL-MOUNTED TOWEL WARMERS

If you're looking to save space and want your towel warmer mounted to the wall, but connecting it to the junction box in the wall isn't your cup of tea, our plug-in wall-mounted towel warmers are a great option. These models come with a power cord that can be plugged directly into an existing outlet.  Ancona Home offers multiple wall-mounted towel warmers that can be hardwired and also come with a plug-in power cord. 
FREESTANDING TOWEL WARMERS

If a towel warmer that you can move from the bathroom to the laundry room is what you're looking for, our freestanding towel warmers are the way to go. These portable towel warmers come with beautifully designed floor mounts that allow you to enjoy the luxury of warm and dry towels wherever you want. Simply move the rack to another room and use the supplied power cord to plug it into an existing outlet.

3-IN-1 TOWEL WARMERS
If you're planning to renovate your bathroom in the future, but are in need of a towel warmer before the renovation starts, we have an option for you! Our 3-in-1 towel warmers have an innovative design featuring three different installation options within one unit.  You can use the convenient portable floor-mounted option and install it on your wall using the plug-in or hardwire option when you're ready to upgrade your bathroom. A towel warmer is a beautiful addition to your bathroom but also in the laundry room, exercise room, mudroom or bedroom. They're an elegant and eco-friendly way to keep your towels and clothes dry, fresh and warm in any weather.